Latest News
​TAKEAWAY: I am in Austin today at South by Southwest and ready to do a presentation with my Poynter Institute colleague Dr. Roy Peter Clark. Our session is all about the concept of WED (Writing/Editing/Design), which we introduced in the 1980s, but which is as applicable today in what we call iWED, the marriage of words and visual images in the digital age.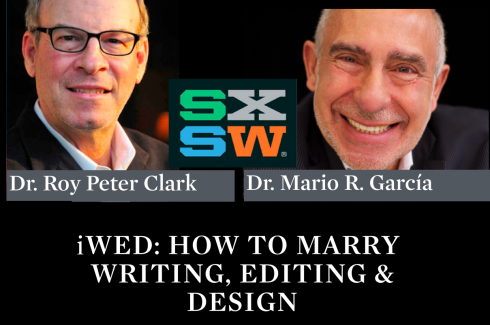 It is an interesting day for my friend and colleague Dr. Roy Peter Clark and I, as we introduce the concept of WED, the marriage of words and visual images, to a new generation, one that was not even born when we first created the idea and used it as the foundation of many of our seminars for writers, editors and designers at The Poynter Institute for Media Studies.
It was the start of the emergence of design as a discipline in newspapers and the entrance of the first "visual" people into newsrooms. As one would expect, there was some confusion about the role of visuals, as opposed to words.
The concept of WED arrived just in time to stop the excesses of the era: let's do as much with visuals as we can, simply because we can. We have new printing presses that can give us beautiful color, so let's colorize as much as possible (enter Carmen Miranda!), or let's play with a large illustration of an avocado, even if the story is not that long or significant.
There was also the occasional duels between the word people and the visual people. In the process, content and design both suffered.
WED to the rescue! We emphasized that writing/editing/design are three important disciplines that must work together. When a writer and a designer discuss a story idea at the time of conception, the reader benefits, and so does the presentation of the story. However, the story line, its tone and point of view, should be represented by how it is presented. The design should not alter nor exaggerate what the story emphasizes. When the words and visual marriages come together everyone wins.
It was not unusual, for example, to devote an entire section front to an illustration of an avocado. Or for a design director to ask a writer to begin his story with a word that started with the letter Q simply because the designer liked the way a certain font had drawn the letter Q.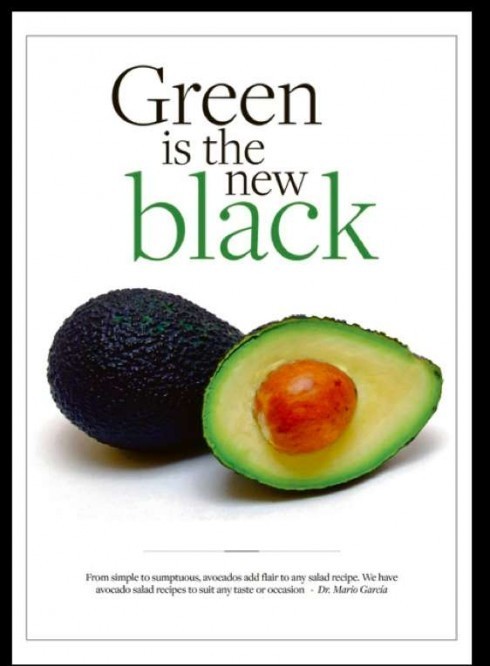 In the digital age
Today, with multimedia storytelling gaining momentum, we must warn against excesses of a lot of bells and whistles attached to a story simply because the technology allows us to do it.
And so, today, in Austin, Roy and I will take to the stage to lead our session titled: iWED: how to marry writing, editing & design.
Tips and takeaways from the session
Make the design appropriate and functional.

Don't overplay the visuals simply because you have the means and the tools to do that

Don't force a giant illustration or photo to tease the reader into expectations of a story that may not be as grand or appetizing as the visuals indicate

Simply, don't indulge in self-absorbed design practices.

Our conclusion
WED made a generation of writers, editors and designers refocus their work to make the story the protagonist, allowing for the various adjacent disciplines to make that story easy to follow, easy to read and more visually appealing. Today iWED does the same, while the challenges are greater. The story continues to be key, but there are various platforms in which to present it, with a technology that allows for more choices on the part of practitioners—

TheMarioBlog post # 1449
Posted by Dr. Mario R. Garcia on March 09, 2014
This is the weekend edition of TheMarioBlog and will be updated as needed. The next blog post is Monday, March 10
Update #3: Friday, March 7, New York City, 10:02
TAKEAWAY: Today March 7 the printed edition of Newsweek magazine is launched. Our question: is there an audience for this? We talk to media experts Roger Black, Joe Zeff and Raju Narisetti to get their views.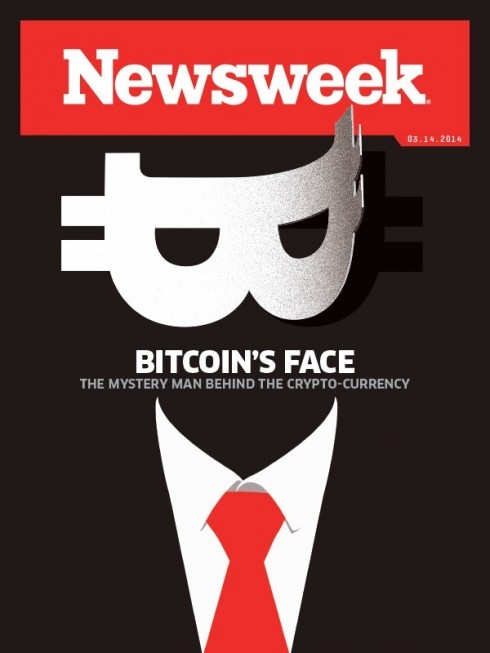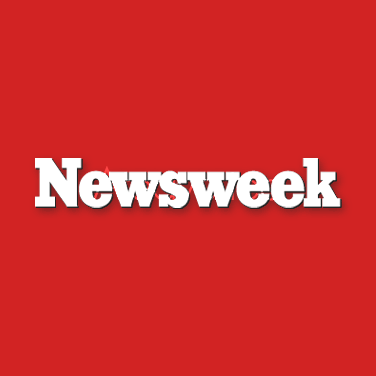 It's a familiar story: Newsweek not reporting the headlines but making the headlines.
It's back today March 7.
In the continuing saga of the iconic magazine, with all the ups and downs of now it's here, not it's not, today's chapter is a happy one: Newsweek returns. Remember that it published its famously heralded "last issue" exactly 14 months ago?
"Small is the new big," writes Joe Pompeo for Politico. The 81-year-old publication returns as a boutique product complementing a digital-first strategy.
One wonders what research has gone into this relaunch? Is there evidence that some readers across the States are willing to read Newsweek in its printed edition, versus on their mini iPads, for example?
And how about advertisers?
We have spoken to three media experts—Roger Black, Joe Zeff, and Raju Narisetti—whose insights are below.
Experts on the return of a printed Newsweek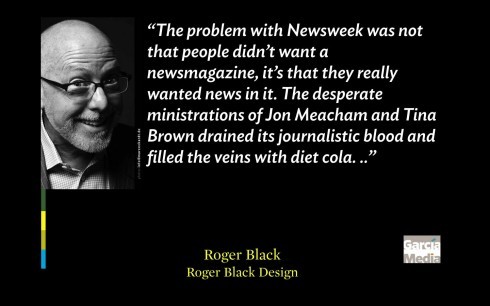 Roger Black's association with Newsweek extends through the years. Here is his extended reaction to the news that a printed version of Newsweek will reappear in print today:
"The news that Newsweek is coming back—in print—gave me a little twinge. Having worked there for two years in the 80s, and helping later to redesign it at least three times, I have some vestigial loyalty to the old brand. Much of that was wiped out after the last time the Washington Post company hired me and then rejected my idea of turning the magazine into a weekly "monthly." That is, a feature magazine, but one with actual reporting.
"This, it seems, is what the IBT people have in mind They may get to prove the idea, since the real problem the Post had with the title was a $40 million subscription liability. So they sold to Sid Harmon who let Tina Brown hold it under the water until all the little bubbles came out.
"It will be interesting to see if the new Newsweek gives a design nod to the old one. Tina had scraped all the chromosomes out of the visual DNA before the magazine closed, and I wonder if the new owner will think it's worth it to restore some of it.
"They, should of course. Publishers tend to forget that when the sell their products. The loyal readers become the real owners, and they're not happy when the manufacturer tampers with the design. The new Chinese owners of the Saab automobile brand grasped this. They're now producing a 9-3 Aero that looks exactly like … a Saab.
"The problem with Newsweek was not that people didn't want a newsmagazine, it's that they really wanted news in it. The desperate ministrations of Jon Meacham and Tina Brown drained its journalistic blood and filled the veins with diet cola.
* * *
"The blogging class widely assumes that the print model is dead, that people don't want conventional magazines any more. It's not the print model that is dead, it's the print business model. If you create an absorbing, original publication, people are happy to hold it in their hands. While Newsweek was dying, The Economist was flourishing. That publication will never reach a three-million US paid circulation like Newsweek had when I worked there—they don't want to—but they are making a profit and putting out a great magazine.
"Maybe some day we'll make digital publications that can immerse you in stories the way print can, (I'm still waiting to see a photo layout on a tablet that's not just a slide show.) Until then I believe readers will be happy to pay for the right magazine.
"Hell, I think that you could even bring back Life magazine, grown from fossilized visual DNA. There are enough people in the world who would pay at least the price of a MacDonald's dinner for two to get timely photo storytelling from the Ukraine, Venezuela, Thailand, Turkey. I mean, I don't see the documentary footage on TV anymore, just talking heads. And if a new threw in a few cat pictures, and babes of both sexes, then I bet you could make a good business with paid subs, newsstand, advertising and lively digital editions.
"So, I'm curious to see if the Newsweek has any of the old genetic material. I'm not saying it will fail if it doesn't. But if they don't summon up the great old ghost (and the Jim Parkinson logo), then what did they buy the name for?"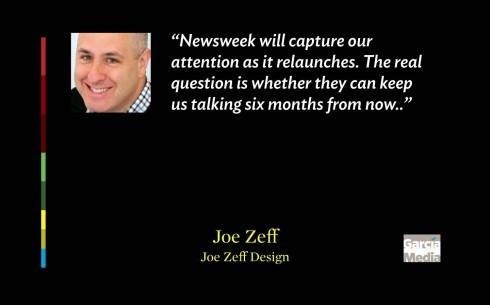 Joe Zeff is familiar with the war of the newsmagazines, as he was working with TIME Magazine at a time when it competed on a weekly basis with Newsweek. It was a matter of asking a good question each week: What will they have on their cover? Will their cover be better than ours?
After Newsweek died, the world kept on spinning. There was no gaping hole in the national conversation, just a bare slot at the newsstand that was quickly filled by something else. The magazine lost its way years earlier, starting with a soul-sapping redesign in 2009 that stripped away photography and infographics and replaced them with walls of words. Its circulation plummeted, along with its dignity. Tina Brown exhumed a photoshopped princess for an infamous Diana at 50 cover that heralded the beginning of the end. Despite all that, the Newsweek brand still means something. In the 77 years that preceded its sale by The Washington Post, Newsweek won credibility for its relentless reportage and razor-sharp analysis. Working at TIME in the late 1990s, I had the privilege of going toe-to-toe with Lynn Staley and Karl Gude and the other outstanding journalists at Newsweek week after week. After leaving TIME, I was fortunate to work with the late Amid Capeci, Bruce Ramsay and others to illustrate quite a few Newsweek covers, each of them points of professional pride. The current ownership has assembled an impressive team: magazine designers Priest and Grace are as good as they come; Editor Jim Impoco did an amazing job with the late Conde Nast Portfolio magazine; and I'm a big fan of former NYT colleague Kurt Eichenwald. I wish them luck as they reintroduce Newsweek magazine to a world that has learned to get by without it. Just as TIME frequently reminds us of its relevance with a buzzworthy cover, Newsweek will capture our attention as it relaunches. The real question is whether they can keep us talking six months from now.
From Raju Narisetti, News Corp's Senior Vice President/Strategy:

"The imminent comeback of Newsweek reflects the harsh reality of the news web business: significant revenue (and profits) are still associated with print. Much like Politico, with its Washington DC, controlled-circulation print publication, and with their newly purchased, Capital NY's recent print publication, publishers are looking to spread their revenue bets, even if it seems contrarian to use print as the hedge. As in, when an advertising "falls" in the global digital jungle, it doesn't really make a noise for the client.
Newsweek's new publishers probably also realized the brand has some resonance and print legs in a few non-US markets, again allowing them to potentially target more lucrative, regional and global print advertisers that perhaps wasn't fully realized in a US-centric sales approach.

I also fully expect Newsweek.com to unveil a paywall that will bundle print and online, to make the offering more palatable.

But the economics of print, where reputed weekly publications try to acquire multi-year subscribers—2 years (100 issues) of Business Week for $50 or 12 issues of Washingtonian for $12, and likely re-invigorated competition from Time Inc will mean that the old Newsweek's Pepsi to Time magazine's Coke strategy will need to be very well executed and tightly controlled in the print space.

I wish Jim Impoco and his editorial team the best of luck in getting the 81-year-old to (re)live up to 100, for starters."
My take
While my wishes are for the success of this new reentry of Newsweek into print territory, I, too,have my doubts that it will be able to survive, unless it can create a totally different print experience. The new print Newsweek must grab our attention with the promise of telling much more about what we already know (which was always the basis for newsmagazine journalism), but it also must NOT try to duplicate its digital offering.
I would like to sit down with a Newsweek that excels in a well thought out plan to explain stories graphically—-both, with explanatory graphics and great photography.
The word curation comes to mind here: we don't want to see a dozen photo essays in a printed magazine, but we wish to see that one photo that best represents the week that was in the midst of Kiev protests, or at the Oscars.
While we rush to practice the journalism of storytelling in the midst of disruptions, perhaps we need to review what it was like to do the more leisure style journalism, with no pretensions, with stories that engage and visuals that inform and amaze.
It's a tall order for Newsweek, and the battered newsmagazine does not have much time to reinvent itself in print. Who knows? Maybe they will be able to show the rest of us a trick or two.
Of related interest
Will Newsweek and Time rekindle a rivalry?
http://digiday.com/publishers/newsweek-time-rivalry/?utm_source=API%27s+Need+to+Know+newsletter&utm_campaign=cea8069964-Need_to_Know_March_7_20143_7_2014&utm_medium=email&utm_term=0_e3bf78af04-cea8069964-31701869
Highlight:
Newsweek set Twitter ablaze with a big scoop in print — print! — that tracked down the heretofore unknown creator of Bitcoin. The story took some of the buzz from Time magazine, which unveiled its own splashy new website last night. This is Back to the Future territory.

"How can you erase 80 years of the American psyche comparing
Newsweek to Restart Printing Presses
http://www.nytimes.com/2014/03/03/business/media/tiny-digital-publisher-to-put-newsweek-back-in-print.html?_r=0
Highlight:
The Graham family, longtime newspaper publishers, gave up and sold it for a dollar. The media mogul Barry Diller spent tens of millions trying to revive it, only to throw in the towel. Even Mr. Diller's star editor, Tina Brown, could not stop it from going out of print.

But where giants failed, IBT Media, a small digital publishing company, sees a growth path for Newsweek, the struggling newsweekly magazine it bought for a pittance last summer.
The newsonomics of Newsweek's pricey relaunch
http://www.niemanlab.org/2014/03/the-newsonomics-of-newsweeks-pricey-relaunch
Our previous blog posts about Newsweek:
Newsweek in print: Chronicle of an unexpected resurrection
http://garciamedia.com/blog/articles/newsweek_in_print_chronicle_of_an_unexpected_resurrection/
We take a look at Newsweek's new iPad app
http://garciamedia.com/blog/articles/we_take_a_look_at_newsweeks_new_ipad_app
Newsweek: a new, newsier (extra) website
http://garciamedia.com/blog/articles/pnewsweek_a_new_newsier_extra_website_p/
Newsweek's planned new formula: more book than magazine
http://garciamedia.com/blog/articles/newsweeks_planned_new_formula_more_book_than_magazine/
The new Newsweek: in "tempo" with what a modern printed newsmagazine should be
http://garciamedia.com/blog/articles/the_new_newsweek_in_tempo_with_what_a_modern_printed_newsmagazine_should_be
TIME

's spectacular cover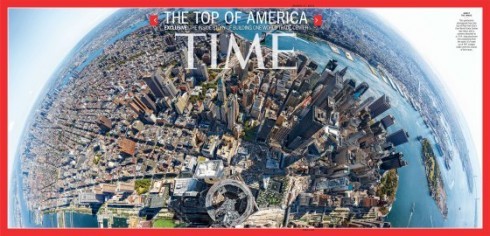 Don't miss this week's cover of TIME Magazine, with a great view of New York City taken from the top of the tallest skyscraper in the Western Hemisphere.
Highlight:
After 12 years of anticipation, the tallest skyscraper in the Western Hemisphere is ready for its closeup. How 10,000 workers lifted 104 floors, gave new life to an international symbol and created one spectacular view
TheMarioBlog post # 1448
Posted by Dr. Mario R. Garcia on March 06, 2014
latest entries
about the blog
A blog about storytelling, design, the projects we work on, the things we learn along the way. View all blog entries »
categories
---