Short & vertical video; often with captions, pioneered by AJ+ and NowThis
Horizontal *Stories; swipeable cards like Snapchat Stories and its clones
Longform scrollytelling; evolved from the original NY Times Snowfall
Structured news; like the original Circa or the reusable cards at Vox.com
Live blogs; frequently used for big events
Listicles; like Buzzfeed
Newsletters and briefings; which seem to be on trend right now
Timelines; which I expected to be more common
Bots and chat; from the chat-styled Qz app to the many attempts to deliver news within chat apps
Personalised; which typically is used to filter the choice of stories, rather than the story itself
Data visualisation; from graphs to interactives
VR and AR
Linear visual storytelling–or is it "scrollytelling"?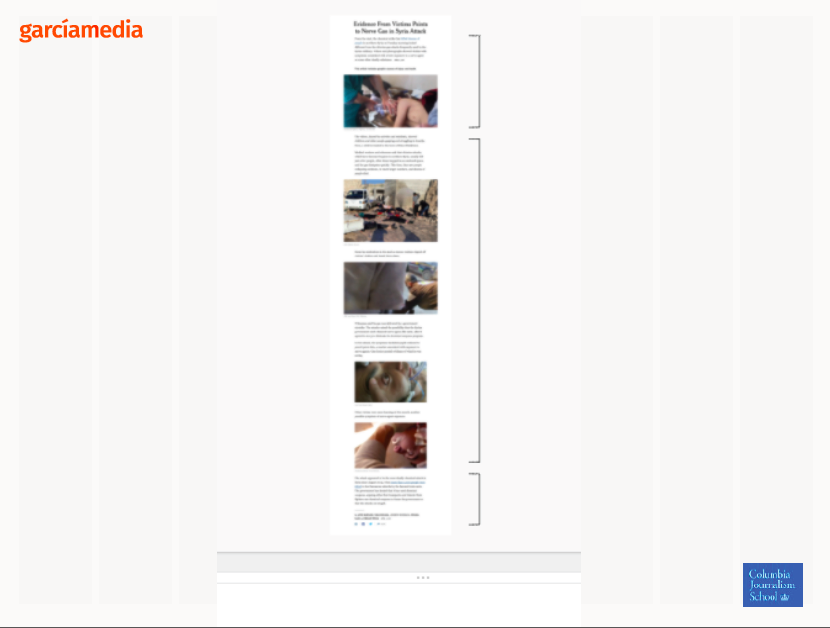 One of our preferred ways of presenting information for mobile is linear visual storytelling, and on this list, such treatments for narrative/visual assets appear under the category of Longform scrollytelling. 
Except that not all linear visual stories are long necessarily, and I would put Snowfall in the category of the multi media story, but I like the use of the term "scrollytelling", because that is exactly one of the key elements in presenting a story in a linear format.
I do recommend this piece, especially for academics teaching reporting/editing/design courses.