The Daily: a peripatetic showcase of styles and moods, but ads hit the spot
TAKEAWAY: Feb. 2, 2011—jot it down as one of those media historic dates for the books, the day that Rupert Murdoch's The Daily, the first ever "newspaper" for the iPad only, appeared. But, is it a newspaper? Let's call this one a preview of the review, as we think it is unfair to review the first day of anything. ALSO: Weekend updates about The Daily, plus assorted other topics.
Update 5, Frankfurt, Germany, Sunday, Feb. 6. 08:49h
Our blog today will be updated throughout the day as other opinions concerning The Daily become available. I have tapped many in the industry to send me their opinions. See new links to reviews, analysis of The Daily
TAKEAWAY: Feb. 2, 2011—jot it down as one of those media historic dates for the books, the day that Rupert Murdoch's The Daily, the first ever "newspaper" for the iPad only, appeared. But, is it a newspaper? Let's call this one a preview of the review, as we think it is unfair to review the first day of anything. ALSO: Weekend updates about The Daily, plus assorted other topics.
The Washington Post: Sunday front page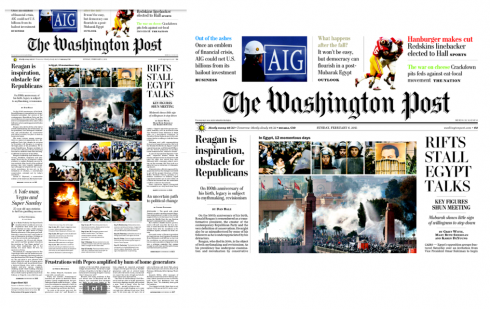 Here is today's front page from The Washington Post, displaying the new A1 promos at the top. This is one of several changes that were introduced Sunday, Jan. 23. We at Garcia Media worked closely with the Post's team in the creation of these changes. This front page is the work of Greg Manifold, Deputy Design Director for News.
For more information on The Washington Post's Sunday edition changes, go here:
http://garciamedia.com/blog/articles/the_washington_post_introducing_lots_of_new_changes_this_sunday/
It is here, now waiting for that wow effect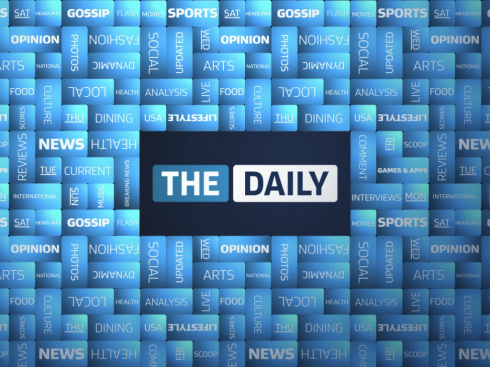 Our blog correspondent, Frank Deville, one of the first in Europe to flip through the new The Daily.

The Daily, the much heralded first ever for-the-iPad-only newspaper, has arrived.
I had a tough time getting it on my iPad. Picture me trying to download it, but travelling thru two time zones, starting in Moscow, a stop in Berlin, then continuing on to Hamburg. I began the download in Moscow at the airline lounge, but it was taking too long, and the flight was called. Then continued three hours later in Berlin, again, slow download. Finally, I was able to download The Daily when arriving in Hamburg.
Although I don't believe it is fair to review a product like this based on a first day edition, I offer some first impressions here, promising that I will continue to look at it for the next few days. Undoubtedly, there will be hundreds of reviews of The Daily when this blog appears (in fact, we link you below to some we have spotted already), anyway; patience is not a virtue of our times.
Of course, Broadway shows get their fate determined by reviews based on the opening night performances. We know how that goes, especially if a certain theater critic from The New York Times does not like a show. Closing notices usually follow, and, if the show is lucky, its stars pack their bags and go on national tour.
The Daily is already on national and global tour, right from the start.
From what I see, I think it will be a long run, and there are things that win me over right away. Others puzzle me more than disappoint me. We are watching a new product, in a still virtually unknown platform, breaking ground. I have trouble using the term "publication" here because, although it is published daily, it seems more like a compilation of styles, moods and fads than a cohesive unit. The term anthology comes to mind, too.
In fact, I have the impression that there is a word missing in the title "The Daily Something".
First, the good stuff.
Ironically, I like the way most advertising is presented. If the word groundbreaking is to be used with this first edition, I believe it is with the way most of the ads are presented.
Viva those ads: I have been waiting for the "advertising wow moment" in a newspaper iPad app. It has been elusive, but, boy, that Virgin Atlantic ad does it. It is entertaining with plenty of pop ups. It should have been my favorite airline Lufthansa, of course, which does offer many of those same perks as Virgin, plus more. Lufthansa ad execs, if you are reading this, get your pop up iPad app ready and show them your First Class Lounge, your Mercedes limo whisking your premier passengers to and from the plane and that fresh rose on the tray to say guten appetit. Another interesting ad: Land Rover. It surprises with its ad in the sports section. But , what a disappointment that the Pepsi Max ad does nothing special, it could have been the ad on a magazine from the 1930s. Flat ads should not be allowed in The Daily.
See the Virgin Atlantic airline advertisement: real pop ups
Cool items: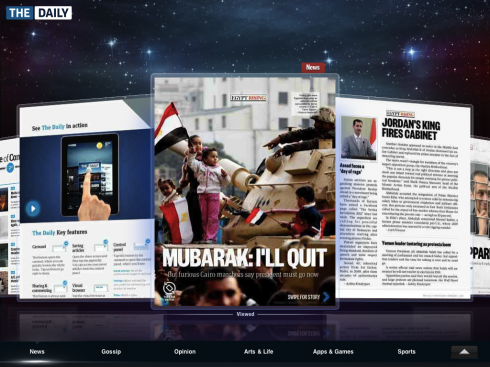 Carrousel nav is nice and easy
The carrousel navigation: easy to flip through to get to your destination; visual and surprising
The Daily Tips, with the share button and the paper clip to save and read later.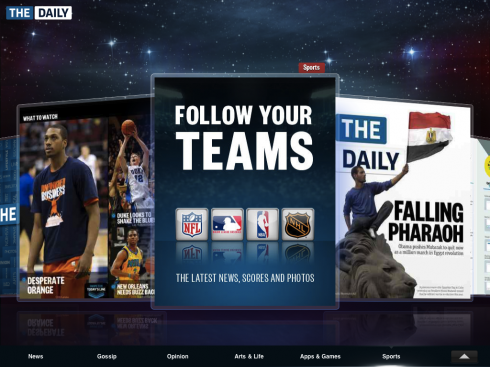 All about your favorite team: customization of content

Customizing of content, as in the sports section, where one can build content preferences around one's favorite team.
The design: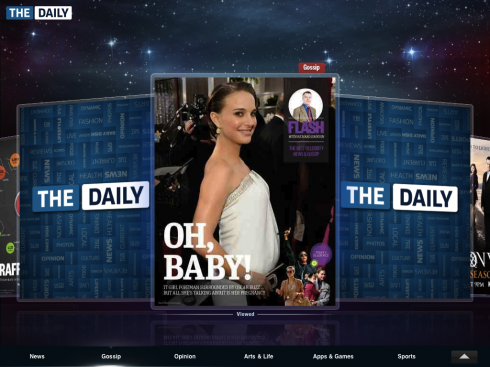 The celebrity page: a little New York Post, People US blending for maximum visual effect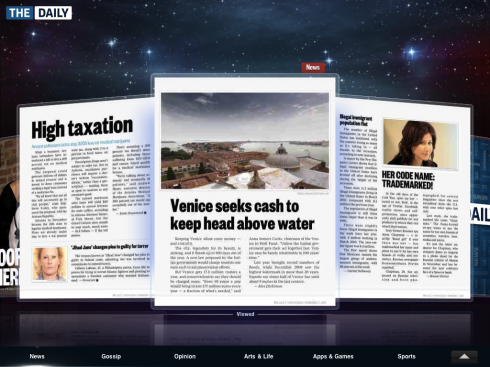 In terms of headlines: when are they all capital letters, or lower case?
There are many nice things, but, in my mind, I have more of a catalog of options than a consistent pattern. I sense a lack of consistency, with many elements that do not seem to blend well with each other.
I am sure some type design student will take the time to go through all the different type styles here and perhaps write a thesis on it. Let those student theses begin. We know what that was like when USA Today appeared in 1982. I was a professor at the time and read more analysis of the newspaper of the future than I care to remember, not to mention the proposal for Ph. D. dissertations built around USA Today's weather map.

Perhaps iPad newspapers do not have to be typographically consistent, or their design cohesive, or even have sections that look like they belong with each other, and I don't say that cynically.
This is a first of its kind, a newspaper that exists as an iPad app, without the print mother ship behind it and all the legacies that bind.
As such, it can write the rules.
However, why are the text areas so much like the New York Post, or any tabloid, for that matter? Is this The Daily trying to shake hands with the past, with the familiar? Once we are in reading mode, it is pretty much business as usual, with few surprises or pop ups, at least in this first edition. Maybe this will improve with time.
Peripatetic: this is the word that comes to mind when I go from section to section here. The word is associated with Aristotle, who used to lecture about philosophy while walking.
The Daily, too, is a sort of vagrant. It wants to be do many things at the same time ,and, indeed, it can be People or US magazines for two or three screens, then it is newspaper tab for the next, with some television and Nintendo game strategies peppered around, especially in sports.
If, as I have said repeatedly, a newspaper app is not a newspaper, online edition, TV or movie, but a combination of all of the above, then The Daily's first edition proves the point.
The Daily facts at a glance:
• The price: It will be offered at 99c for a weekly subscription or $40 for a year.
• The Daily and other platforms: The Daily will be on rival smartphone platforms (Android and others), and it does have a website (http://www.thedaily.com/). The website's content is barebones, though, and difficult to access without being in the app. It mostly exists to allow subscribers to share articles by Twitter, Facebook, and e-mail (a similar logic to the WSJ's paywall articles).
•Content mix: This is interesting, as content will include original material from the 100 journalists on the Daily, but also original material from journalists at the Atlantic, the New Yorker, AOL and, believe it or not, The New York Times as well as News Corp titles The Wall Street Journal, New York Post and Dow Jones.
•It is tabloidy and magazinish: Short news, sport, entertainment and gossip, the type of content that appeals to a segment of the population that already finds plenty of this in other venues.
•Expectations: Murdoch has said he anticipates it will take 800,000 readers to make the Daily viable.
•The Last Word: imitators and copy cats will have a tough time recreating The Daily, which may be a good thing for its creators. The Daily is so inconsistent in its presentation, so not systematic, that it will make the job of a quick analysis of its intentions quite difficult.
Reactions from people in the business:
Roger Black, design guru
After years of newspapers becoming more like Time and Newsweek, now we have a daily news magazine. The Daily is readable, wide-ranging, and interesting. You can criticize the typography (e.g, neutral quote marks), but at least its not over-complicated or goofy like many publication iPad apps. Carps:
Editing seems a bit thin.No photo stories .Confusing when UI goes to vertical swipes.Audio track is terrifying.Doesn't seem to care about Twitter or Facebook . Big question: Can they keep this up every day?!

Joe Zeff, designer/illustrator
On the plus side, the app is attractive and brimming with content. A Cover Flow-like carousel turns every page into an entry point, with labels that show which pages have already been viewed. The user's location is billboarded on the home screen alongside the hyperlocal time and temperature — a nice personal touch…..........The content feels old. Because it is old. It makes no sense to build a state-of-the-art app around the anachronistic daily news cycle. Online news should reflect immediacy, with up-to-the-second words and pictures. One article cites Punxsutawney Phil's accuracy rate but fails to tell the reader whether the groundhog saw his shadow this morning. (He didn't.) That's inexcusable. If the technology exists to put Twitter feeds on news pages and real-time wire copy on sports dashboards, then those same tools should be used to provide updated, time-stamped content in every section, including the front page headline and image.

Steve Dorsey, Vice President / R+D, Detroit Media Partnership

I liked the "play" mode on the carousel viewer, and really liked the random scanner option. I could imagine skimming and scanning using that.I also really liked the "viewed" indicators in carousel mode that helped me keep track of which items I'd already looked at.The incorporation of multimedia throughout the app—and even the ads—was aggressive and varied enough so there were some surprises. I think it was better than some magazine apps I've seen. But I also found myself tapping where there wasn't interactive content, expecting to find it once or twice….......Overall The Daily was a little sluggish and non-intuitive in many cases. I found many of the targets required tapping and re-tapping (or even re-re-tapping annoyingly). The controls or sizes on these targets might be set just a little too tightly.In the front section of the gossip photo galleries I don't like that I have to "turn to see story" (I've come to prefer my iPad almost exclusively horizontally). It seems there should be alternate vertical AND horizontal views—not a requirement that I must rotate my device to be able to see content.
Ron Reason designer
Here's Ron's "second day" quote for The Daily: it gets better
Day 2 already seems an improvement, with a cover that is more dynamic with motion and more entry points, and stories with quick loading animation including a look at the best seats in the house for the Super Bowl. With any launch of any print or digital news product, we all wonder: what might we have suggested if we were in the room? Here, I'd suggest a quicker entry point for the advertisements, maybe in the topline menu, if only for a few weeks. Give the sponsors a little more love, since they're paying for the damn thing. Celebrate this new shining era of ad content that is interactive, desirable, viral, by giving the sponsors a quick link in the topline menu. Don't just ghetto-ize them and bury them in between specific pages. I'm also surprised not to see a sponsor on the Table of Contents, even a static one (you'd call it a "silent ad," Mario, not sure if you think such a thing has a place here). Or why not consider a secondary TOC page just for the advertisers? Especially given this 2-week trial period of free downloads, more people are likely to view The Daily now than anytime in the near future. And as we head toward Super Bowl Sunday, more people are thinking this week about the impact of advertising and wondering, who's doing something cool, new, outrageous, different. Not just media critics and consultants, but the general population is attuned to this. Perfect time for an app to jump on that bandwagon - celebrate the presence of advertising the way the Big Game does. (Hey, it's broadcast on Fox, so you'd think they'd get that here.)
I am underwhelmed by screen
snaps I have seen, and would NOT pay for it. If it was something done
on a local level? I'm not sure. Is it just the notion of a generic mix
of content that turns me off? I can get weather, horoscopes, fashion,
features, video etc anywhere on the web for free, and aggregate it in
a cool free iPad app like Flipboard"
Jiim McManus, illustrator/designer
"I was thinking about your post ( concerning the issue of what constitutes 'modern" in design) as I looked through a few publications this morning (we're snowed in here). One is The Daily, the new ipad app from Murdoch. You have probably already written about it today, but I have to say that I was not impressed. It looked magazine-like (which can be a good thing), but not terribly new or fresh in any way. And it seemed quite limited in the ways in which it took advantage of the ipad. And very little about it felt particularly Modern despite being built form the ground up for a new technology. CNN's new ipad app, on the other hand, seemed very Modern to me. "
Pertinent information of interest about The Daily
Our intern, Reed Reibstein (Yale University '11) has pulled another all nighter to come up with some interesting information and links for reviews, etc. about The Daily.
Reed's first impressions, which I sought, are of special interest, as he is a college senior and supposedly the generation for which this type of products is created.
"Most of the reviews concur with your impressions: some nice elements, but overall confused about its identity (visual and otherwise). There's also a feeling that the journalism isn't as sharp and "must-read" as it needs to be—especially in the News section," Reed wrote me.
Follow him and his updated suggestions here:

"The Daily arrives: But do you want it?": http://www.pcmag.com/article2/0,2817,2379246,00.asp
From The New York Times:
http://www.nytimes.com/2011/02/03/business/media/03daily.html?_r=1&partner=yahoofinance
The Daily's website (rather nicely designed, I think)
TheDaily.com http://www.thedaily.com/
Quick video tour of The Daily
http://www.thedaily.com/videos
The Daily's masthead
http://www.thedaily.com/about
The Daily's blog
http://blog.thedaily.com/
What an online article looks like
http://www.thedaily.com/page/2011/02/02/020211-gossip-natalie-portman-1/
Basic information

Damon Kiesow at Poynter with the quick facts about The Daily
http://www.poynter.org/latest-news/media-lab/mobile-media/117383/first-issue-of-the-daily-reveals-magazine-look-tabloid-feel-ipad-interactivity/

Live blog of yesterday's press conference
http://mediamemo.allthingsd.com/20110202/live-from-the-dailys-debut/
Overview from the NYT
http://www.nytimes.com/2011/02/03/business/media/03daily.html?hpw
Analysis

Overview:
http://www.fastcompany.com/1723317/the-daily-ipad-newspaper-apple-news-corp-murdoch-digital
8 perspectives from Fidler, etc.:
http://www.poynter.org/latest-news/media-lab/mobile-media/117381/first-impressions-of-the-daily-8-perspectives-on-its-design-interactivity-and-business-model/

"The Daily arrives: But do you want it?":
http://www.pcmag.com/article2/0,2817,2379246,00.asp
"Who is The Daily trying to reach? What problem is it trying to solve?"
http://www.niemanlab.org/2011/02/who-is-the-daily-trying-to-reach-what-problem-is-it-trying-to-solve/

"So, wait, The Daily uses AP content?"
http://www.niemanlab.org/2011/02/the-daily-so-it-uses-ap-content/
"'Serendipity and Surprise': How will engagement work for The Daily?"
http://www.niemanlab.org/2011/02/serendipity-and-surprise-how-will-engagement-work-for-the-daily/
"Next news war: Murdoch's daily iPad app vs. New York Times iPad app"
http://latimesblogs.latimes.com/entertainmentnewsbuzz/2011/02/will-the-daily-outsell-monster-dash-time-will-tell.html
"The Daily is interesting but is it the future of newspapers?
http://gigaom.com/2011/02/02/the-daily-is-interesting-but-is-it-the-future-of-newspapers/
"Daily economics"
http://www.buzzmachine.com/2011/02/02/daily-economics/

Fox News was the only cable news channel to cover The Daily press conference
http://mediadecoder.blogs.nytimes.com/2011/02/02/the-first-look-at-news-corp-s-the-daily/?hpw
Reviews

The Daily has the Buzz as the iPad's Paper
http://www.marketwatch.com/story/the-daily-has-the-buzz-as-the-ipads-paper-2011-02-04?siteid=yhoof

Best, most extensive review from Magtastic Blogsplosion
http://www.losowsky.com/magtastic/2011/ipad-review-the-daily/
Joe Zeff reviews The Daily:
http://joezeffdesign.com/the-daily-arrives/
John Hondroulis@acappellamedia
http://acappellamedia.com/connect.html
"Uh. No Pinch & zoom? Just swipes?? For $30M I was hoping for a revolutionary UX. #thedaily http://bit.ly/gXZPce"

Daring Fireball
http://daringfireball.net/linked/2011/02/02/the-daily-in-action
Mashable
http://mashable.com/2011/02/02/the-daily-review/
Rex Hammock
http://www.rexblog.com/2011/02/02/22499
Several other important pieces of news happened yesterday, too
The Android app store gets a web version, allowing you to install apps onto your phone or tablet from a computer
http://www.engadget.com/2011/02/02/android-market-gets-a-web-store/ and https://market.android.com/
CNN will have an app for Android tablets; the same as their iPad app, but making use of the video camera to allow readers to upload their own video reports http://www.intomobile.com/2011/02/02/android-honeycomb-cnn/
An early look at News.me, The New York Times' answer to The Daily"
http://techcrunch.com/2011/02/01/news-me/
Journalists under physical assault in Cairo
http://cpj.org/2011/02/journalists-under-physical-assault-in-egypt.php
Update Friday


Frank's pick of the best "pop up" moment this Friday is from Bild where the app shows a clip of the upcoming TV movie about that famous zepellin, Hindenburg. The blonde woman at the start of the video is the actress starring in the film. Press the 3D button on the app and you get 3D animation. For more info about the film, which will show in German TV in two parts, Feb. 6-7, go here: http://www.airships.net/hindenburg
Remember the Hindenburg? Bild's app today highlights it, take a peek here.
And here is Bild's coverage of the Egyptian crisis: the approach is how different countries in the Middle East are reacting to the crisis in Egypt. Click on the flag of each country and get a pop up window updating the reader on the situation in each country

A fan of Grey's Anatomy?
http://blogs.forbes.com/dorothypomerantz/2011/02/03/new-ipad-app-lets-greys-anatomy-fans-get-interactive/?partner=yahootix
TheMarioBlog post #706, #707
A day for follow ups on mini posters, logos

TAKEAWAY: Today we catch you up with developments on projects about which we posted blog entries before. PLUS: 40 Years/40 Leassons: Culture and its effect on our personal and professional lives. AND: Great expectations about Murdoch's Daily, the first newspaper created just for the iPad!
Mini poster on Page One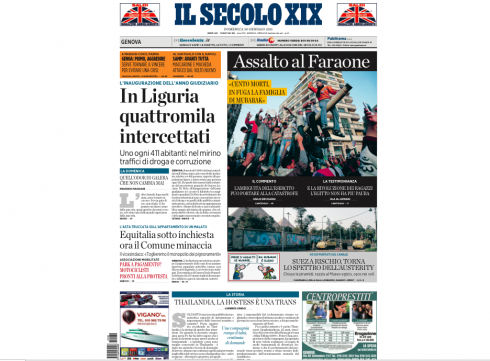 Front page of Il Secolo XIX of Genoa using mini poster concept.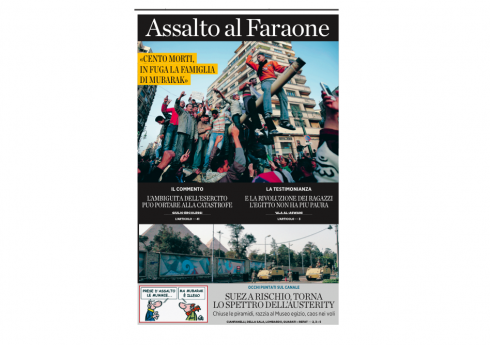 Close up of Il Secolo's mini poster about the crisis in Egypt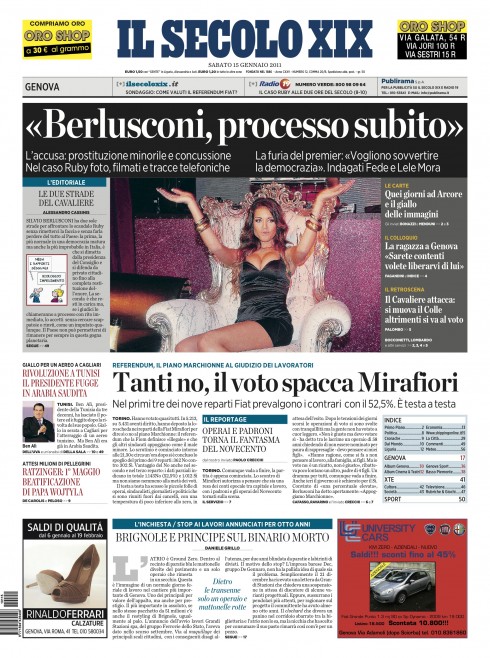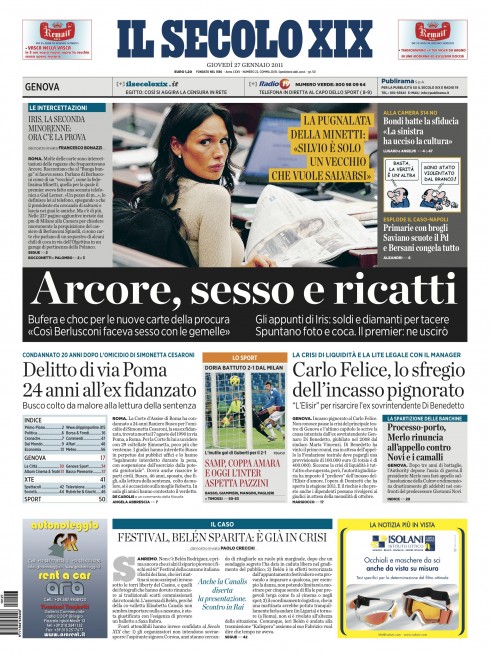 Mini posters come to the rescue as Il Secolo covers the Berlusconi sex scandals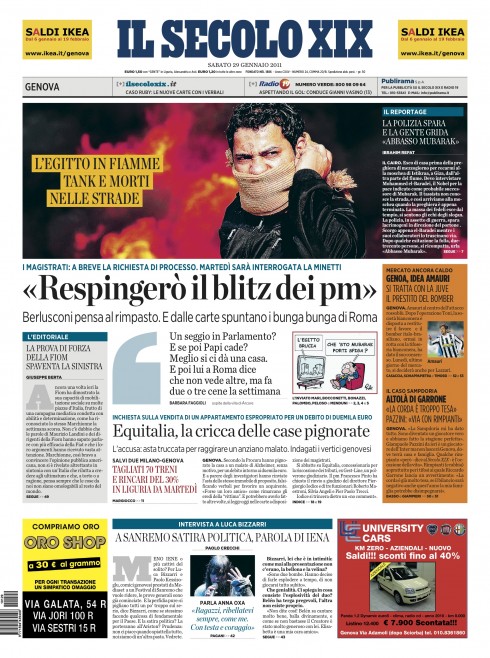 The horizontal mini poster crowning the front page of Il Secolo XIX


In Italy, Il Secolo XIX continues to use the concept of the mini poster on its front page to group related images, headlines and texts and create a mosaic where the story of the day is presented visually at a glance.
I hear from Massimo Gentile, design director at Il Secolo, that his newspaper now prepares to officially introduce the mini poster concept, which we created together less than six months ago, as a part of the daily front page design.
"This is an economical way to present a lot of information in a small space," Massimo writes me. "For example, in this page about the crisis in Egypt, we had a lot of good images and we are able to combine them, and give readers a visual overview of what happened, before they read anything."
When we first discussed this concept together, I explained to the editor of Il Secolo, Umberto La Rocca, that I saw his very active front page as containing many good stories, but that sometimes the main lead piece of the day got lost in the middle of it all. Italian newspapers are highly caffeinated, with headlines and summaries running everywhere——sort of like the streets of Genoa or Milano themselves. The mini poster offers the opportunity to systematize the chaos a little bit, to group things visually for readers.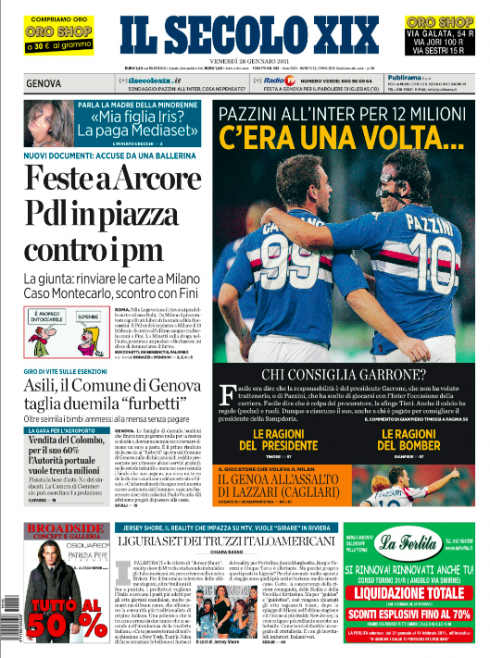 The headline plays a key role in the design of a mini poster. Take a look at the exaample above. Story is about two local football stars that were sold to big European teams. The headline reads: Once Upon A Time…..

Our practice "mini posters"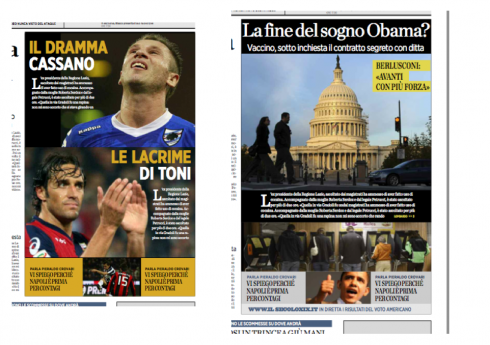 Sample practice mini posters here: A sports story inside is packaged as big mini poster promo on page one (left); a mini poster packages the US November Elections, with headline—End of the Obama dream?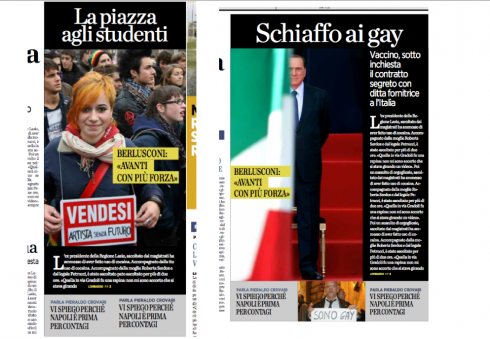 Notice that a mini poster can highlight a single story promo (student protest, left); or package an analysis of a political story (Berlusconi)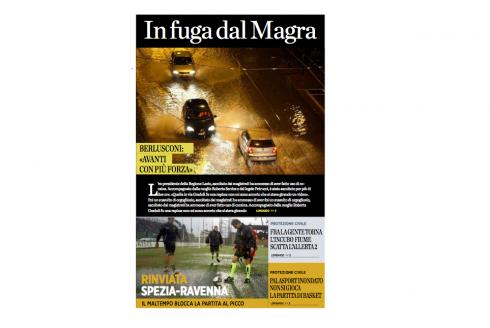 Even a local police story can benefit from the visual groupings of a mini poster


For Il Secolo, and we shall see this as the style becomes a permanent part of the front page, the idea is to use the mini poster NOT just for the big story of the day, as is the case in this example, but also to highlight photo groupings for stories that may not be the lead, but that have interesting visuals; or to use the mini poster as a giant promo to a good story inside.
With the help of our Garcia Media art director, Christian Fortanet, Il Secolo will prepare next week for the official "launch" of the popular mini poster on page one of Il Secolo XIX.
We will update you.
Previous Il Secolo blog posts:
http://garciamedia.com/blog/articles/for_genoas_il_secolo_xix_new_smaller_format_and_stile_italiano/
http://garciamedia.com/blog/articles/il_secolo_xix_three_days_after_relaunch
http://garciamedia.com/blog/articles/snd_design_contest_part_2_we_chat_with_steve_dorsey/
The Al Shabiba project revisited

It was early 2010 and Oman's Al Shabiba, the Arabic language daily, was getting a total remake, rethink and redesign. The change of the logo was one of the most fascinating aspects of that project for all of us. Now, almost a year later , we revisit Al Shabiba's pages and are happy to hear that there has been no major complaints either about the design or the controversial logo change.
What followed that redeisgn was a web reality show—-typography style—-with readers of the blog chiming in with comments about the Al Shabiba logo and the changes we were proposing. It was the first time that I incorporated the changes that were taking place, in a work in progress, into the blog for reader consideration. Fun it was.
So now, almost a year later, the logo has been "retouched" but it holds steady. There is no longer any controversy, and, as always happens in these cases, the readers of the newspaper probably have no reminiscing of how the "old" Al Shabiba logo looked like.
Recemt Al Shabiba pages
Al Shabiba design director, Osama Aljawish, updates us with these pages from recent Al Shabiba editions.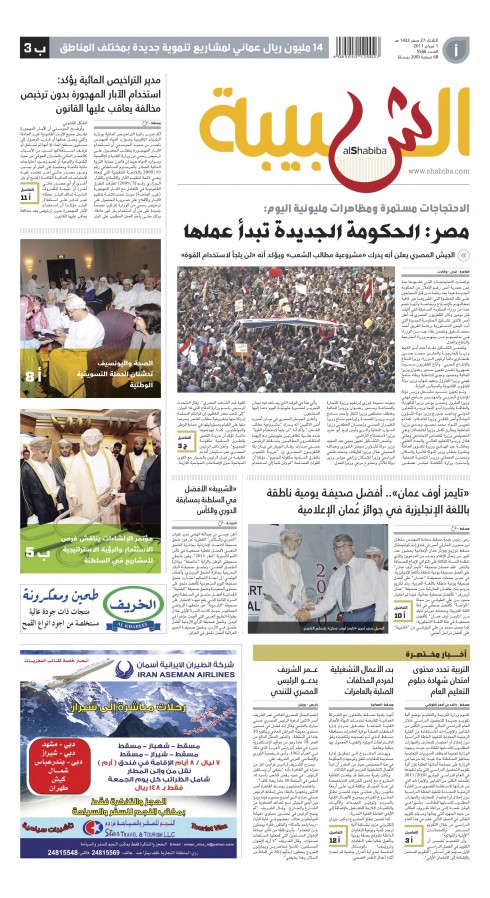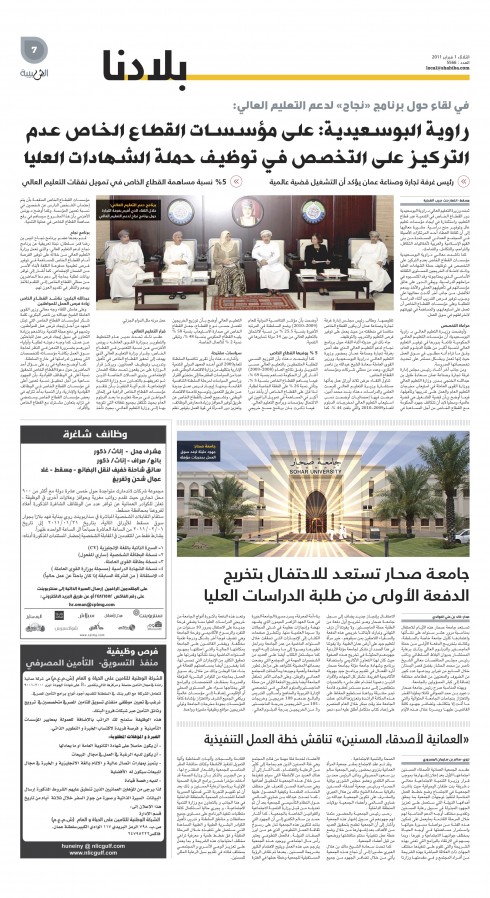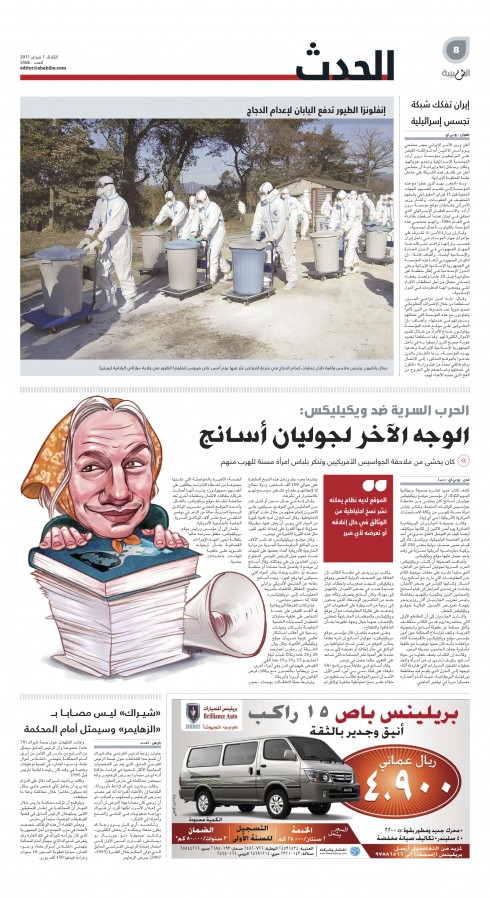 For previous Al Shabiba posts:
http://garciamedia.com/blog/articles/monday_in_muscat_readying_two_newspapers_for_april_4_launch
http://garciamedia.com/blog/articles/tuesday_report_from_oman_opinions_vary_on_al_shabiba_logo_and_we_continue/
http://garciamedia.com/blog/articles/moschino_it_is_the_best_youngest_logo_for_al_shabiba_wins/
http://garciamedia.com/blog/articles/basic_ingredients_for_ipad_design_stay_close_to_the_basics_plus_more_times_
Today is D (as in Daily) Day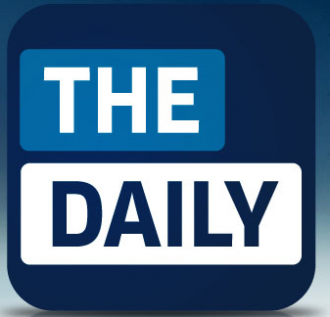 The much awaited arrival of Murdoch's Daily—-the first ever newspaper created just for the iPad——is today.
I don't remember such mystery surrounding a newspaper project since USA Today's launch in 1982.
This will be the main topic of discussion for media blogs globally for the next few days, and we, too, look forward to sampling the first edition.
TheMarioTip: Be on the lookout for The Daily's sports section. Insiders tell me it is the one part of the new product that has the hook! Will continue to report on the subject.
Here is an interesting headline to get you the pros and cons of The Daily and its potential success:
The Daily is Doomed: The Daily is a Hit
http://mediamemo.allthingsd.com/20110202/the-daily-is-doomed-the-daily-is-a-hit/?reflink=ATD_yahoo_ticker
For a peek at who is who in the Daily cast, turn to the Poynter website:
http://www.poynter.org/latest-news/romenesko/117250/meet-the-staff-of-murdochs-the-daily/
Today's iPad app "pop up" moment
One pop up moment from Germany's Bild's iPad app today, contributed by our TheMarioBlog correspondent in Luxembourg, Frank Deville:
Follow this pop up moment: German football player wanted to change teams, but lost his chance. Why? A malfunctioning fax machine. The guys at Bild's app took the story and ran with it.
See the action here:
TheMarioBlog post #705
40 Years/40 Lessons #11: Culture.
TAKEAWAY: This is part 11 of my occasional series 40 Years/40 Lessons, which I call a "sort of career memoir" capturing highlights and reminiscing about what has been a spectacular journey for me, doing what I love most. Today's segment: all about the impact that culture has had for me personally and professionally.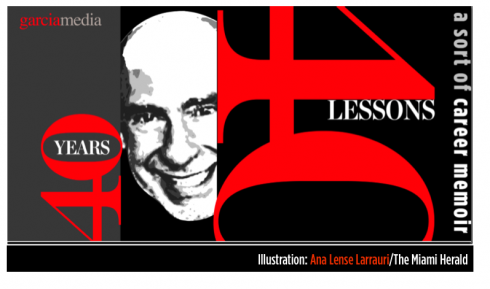 Illustration by Ana Lense Larrauri/The Miami Herald

Bicultural, multicultural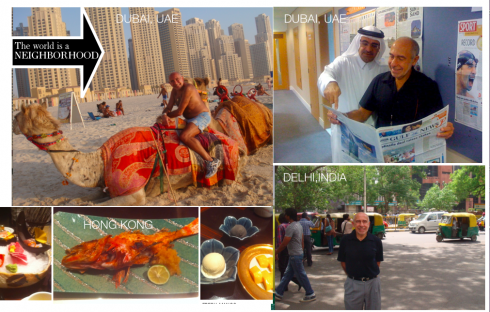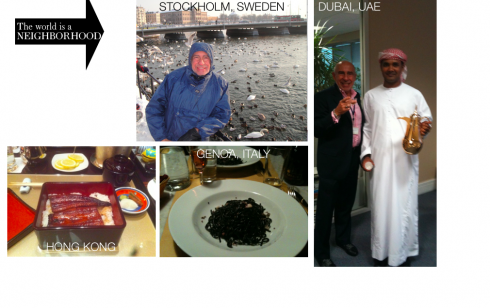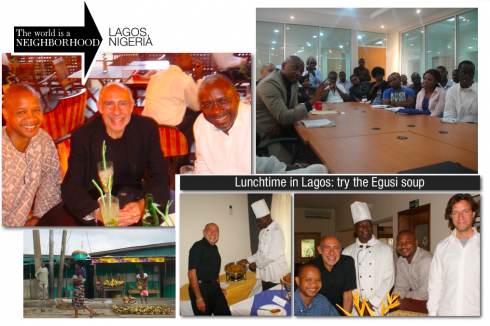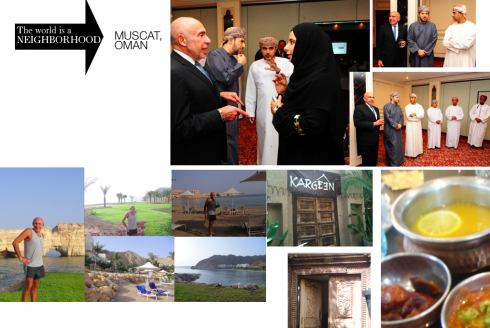 From time to time someone will ask me the question: Mario, you were born in Cuba, came to America as a young teenager, and have lived most of your life as an American, but travelling the world? Which culture defines you? Do you feel more Cuban? More American?
Sometimes I feel like a citizen of the world, and it is not a bad thing. Today, the world is our neighborhood, and fast, immediate communication and access to information make that neighborhood a smaller village all the time.
But, back to the question of culture and identification. I guess I am a bicultural person most of the time, with moments in which I feel extremely Cuban—-as when the smell of a good picadillo or the presence of a great artisanal Cuban dessert, like toronja en conserva, appears in view, not to mention when I hear Cuban music, when both feet are 150% Cuban each. Then, of course, I love America, my adopted homeland that took us in as refugees, something one never forgets. I love everything America, especially my American children and grandchildren, but also a good Macy's Thanksgiving Parade, the Fourth of July fireworks, the sense of optimism and constant renewal that is the foundation of what we are as Americans—-even in the worst of times. I put my hand on my heart to recite the Pledge of Allegiance, and, if abroad, my eyes get misty when I hear the Star Spangled Banner. Sentimentally patriotic for the US, which I consider my country; symbolically and culturally attached to all things Cuban, especially the music, the art, the literature and the food.
With my sense of being a proud Cuban I honor not just the land where I was born, but also the memory of my parents, who were 100% true, patriotic Cubans until the very end; with my sense of respect, grattitude and patriotism for my adopted land, the US, I am a walking example that the American dream is possible and I hope to pass all of those feelings to my 11 grandchildren, who become part of the great American melting pot.
Work and cultures
Then comes the culture of work. I have worked in 96 countries in six continents to date.
With each project, in each new country, I learned enormously about the impact and influence that culture has in the way we talk, think and carry out our professional duties. An element of sustenaibility for me, 40 years in this business, has been to respect each of the cultures which I encountered in my work.
It was clear to me from that first trip to Argentina, in the late 1970s, to work with La Nueva Provincia, of Bahia Blanca, my first project outside the United States, that the first step in succeeding as a consultant in a foreign land was to show respect for how others think——-and, by the way, one does not have to leave the country or deal with a different culture to do that. Especially if one is an American consultant, one must avoid imposing views that others may consider to be "air of American superiority complex". The first step for me in each engagement is to listen, to acquaint myself with the people and their culture.
As a runner, I take early morning runs thru every city in which I work. I observe my surroundings, how people decorate their windows, the colors they paint the outside of their houses in, even what they throw in their trash. How they treat their animals. How they advertise consumer goods in the streets. How they assemble, or follow traffic signs. All of this weaves the cloth that I sort of wrap myself in to deal with the project at hand.
Once inside the organization, I try to think as if I were a permanent part of this culture.
Culture and design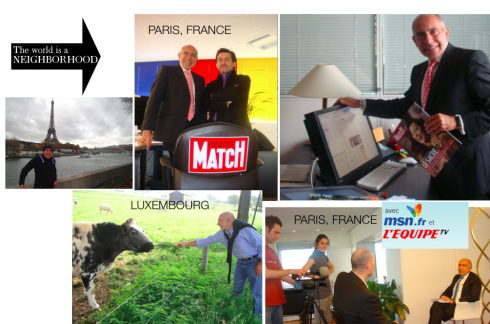 One cannot transfer a design model from Brazil to Scandinavia. Some ideas may be universal (navigation, legibility, clarity), but others vary distinctively (color, typography and, most importantly, a newspaper's look and feel, which I have come to realize varies from country to country). There is not such a thing as a "newspaper look" that fits all.
What may be a classic newspaper look in one place constitutes a boring, "don't go there" type of newspaper in another place. What may be loud, Carmen Miranda colors for one newspaper in Stockholm, are exactly the colors the doctor ordered for that newspaper in Fortaleza.
Appeal to the senses is important when one studies the likes or dislikes of a culture. I have always thought that the moment one steps out of an aircraft and walks the plank down to the baggage claim, one smells the country. Have you experienced this? If you disembark in Delhi, the first aroma of India embraces you in a welcome, but when you do the same in Buenos Aires, it is a totally different smell, as is Copenhagen or Moscow.
I usually let my senses capture the culture, visually and otherwise.
Be true to your cultural you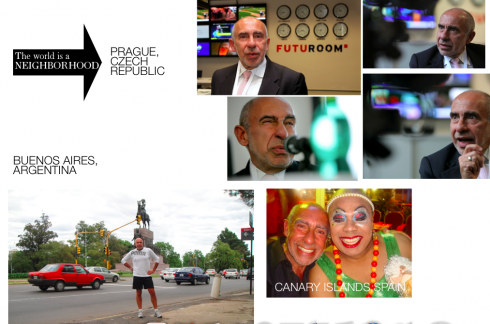 But I am also aware of two important things:
1. Those with whom I am working, are sizing me up for what they perceive to be my cultural background, just as I am doing it with them.
2. I must be true to my cultural values without sacrificing them as I respect those of the people with whom I work.
On item number one: I always get a kick out of the way my German or Scandinavian clients, for example, always see me as an exotic bird. Indeed, I may be one, and that is Ok with me. To the more reserved Nordic cultures, a person who, like me, talks with his hands, moves constantly during a presentation, never reads from a script, and ad libs along the way, reacting to the mood of the moment and the audience (blame this on my childhood acting days in Cuba?) is, indeed, an exotic breed of whatever. The fact that I insist to be treated with the informal Mario, as opposed to Dr. Garcia (it is always most troublesome to get them to do that in Austria, for some reason), that I talk to everyone the same way, from the CEO and owner to the lady who brings me coffee and water, is something many find strange.
And, of course, I cannot begin to tell you the number of times that a foreign client will tell me, in flattering tones: Well, Mario, you live in the US, but you are not a typical American.
A typical American, what is that?
I smile, knowing they are trying to tell me something nice, and I never open the Pandora's box to ask: what is a typical American?
In Latin America, however, my clients always tell me; You think like a yankee.
There you go. Why do I think like a yankee? Because I insist on punctuality, following deadlines, the American work ethic.
As one Colombian editor put it to me: "Mario, you are packaged like a Cuban with the head of an American."
Talk about picturesque language with a cultural twist.
It is not all roses and flattering statements, no sir.
Readers of this blog know that the makings of Die Zeit, Germany's intellectual weekly, remains my most difficult project to date. Why? The German editors thought an American could never understand German culture. (Go here to read a blog post on that: http://www.garciamedia.com/blog/articles/40_years_40_lessons_10positive). It was a wake up call for me. Perhaps I had not understood German culture as well as I should. So I immersed myself in a learning process. It happened.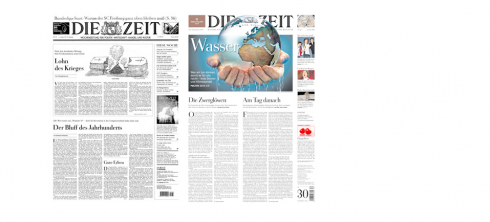 Preserving the concept of German elegance in Die Zeit: before and after redesign images appear here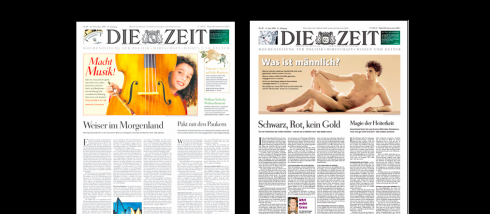 Die Zeit: purely Germanic in look and feel!

At times, perceptions of culture get on the way of moving on with a project or, as in the aftermath of the project, as was the case with The Wall Street Journal. It was 2001 and we were granting a lot of interviews to launch the new look of the WSJ. Repeatedly, reporters would latch to the connection between a former refugee who arrived in the US as a child escaping communism now redesigning the ultimate tool of American capitalism. At first it was fun to talk about it, eventually, it kept me from talking about the real changes in the design of the newspaper and how it would be easier to navigate it. In this case, culture "comparisons" appealed more interesting to many reporters than the story at hand: the visual change of The Wall Street Journal.
I must admit that at moments like that you feel like your cultural background is a heavy steelcase suitcase and you wish the airline would lose if for two or three days, as happens with my real suitcases at least twice a year.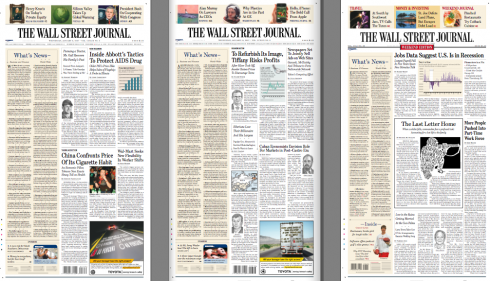 It made for good copy, of the cultural clashing kind: Cuban refugee helps redesign the ultimate American capitalistic tool!


Fortunately, we are what we are, the total result of our cultural backgrounds, and we carry the culture suitcase wherever we go.
Mine is a little heavier because it carries two solid cultures that are part of me and of which I am proud, plus the goodies and the essence of the many cultures that I have come to admire and to embrace during the past 40 years.
A frame that hangs in my office at home in Florida, and which my wife Maria gave me over 25 years ago, sums it up best:
I am a better person having seen the sun rise on the other side of the world.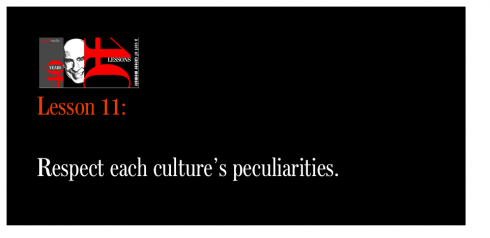 Post-script: As I finish editing this segment # 11 of 40 Years/40 Lessons, I happen to be in Russia, and let's say that both of the personal cultural entities that I represent pose a bit of a handicap with some, not all. As an American consultant I am perceived with the doubtful eye that casts anything America, the sort of "we love you and we hate you" attitude that may date back to the days of the Cold War and the USSR. But, oh, the Cuban connection ain't so good either. There are some here old enough to remember when the Soviets made Cuba their second home, and that meant sending funds and goodies to the Caribbean island, which the locals perceived as "taking it from us to give to Castro". So, better to be a citizen of the world here, evoking things from both of my cultures which generate smiles and positive reactions: American movies and Cuban mojitos.

1.Mirrors.
http://www.garciamedia.com/blog/articles/40_years_40_lessons_1—a_look_in_the_mirror
2.Refugee.
http://www.garciamedia.com/blog/articles/40_years_40_lessons_2—refugee
3.Teacher.
http://www.garciamedia.com/blog/articles/40_years_40_lessons_3—teacher/
4.Mentors.
http://www.garciamedia.com/blog/articles/40_years_40_lessons_4—mentors/
5.Consultant.
http://garciamedia.com/blog/articles/40_years_40_lessons_5—consultant/

6.Eagle.
http://garciamedia.com/blog/articles/40_years_40_lessons_6eagke
7.Abroad.
http://garciamedia.com/blog/articles/40_years_40_lessons_7._abroad
8. Books
http://garciamedia.com/blog/articles/40_years_40_lessons_8_books
9. Luck.
http://garciamedia.com/blog/articles/40years_40_lessons_9_luck
10.Positive.
http://garciamedia.com/blog/articles/40_years_40_lessons_10positive