TAKEAWAY: On Sunday, Jan. 4, Next on Sunday appeared in the streets of Lagos, Nigeria. It is a colorful broadsheet a companion to what will be the daily tabloid Next. The online edition is already available. For Dele Olojede, publisher, it is a dream come true, and what he terms the beginning of "the biggest challenge of my career".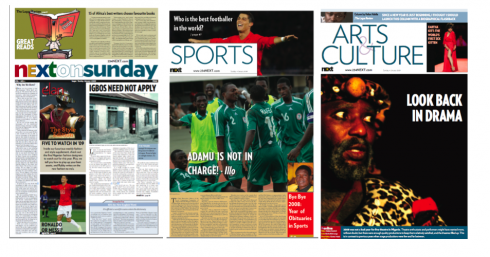 Next on Sunday is here.
The Sunday edition of Next saw the light Jan. 4, and the celebrations included a gala affair introducing the new newspaper to the world. It is the newest newspaper of Nigeria, and one of the newest in the African continent.
The daily edition will be in a compact format, but Sunday is big—-a broadsheet, with several sections that include Arts & Culture, Sports, Metro, Book Review and Elan magazine.
We show you examples here, and will continue to report on the development of Next.
Here is how Dele Olojede described the first day introduction of Next on Sunday:
We had a fantastic evening! The launch went flawlessly. Your video received an enthusiastic ovation, and it was followed by my presentation. Advertisers are enthusiastic. Even rival publishers openly admitted that we have shifted the paradigm……The staff were finally able to see a concrete expression of all the work, however inadequate. Some of them cried…."
We know that there is a long learning curve to follow here.. The staff of Next is young, somewhat inexperienced, but eager and enthusiastic. Everything is new to them, including the producing of a daily newspaper and online edition. We at Garcia Media have worked hard with the team, and we know that it is a matter of time before Next becomes the one newspaper to watch. Until then, we continue to work with them, now emphasizing coaching and training. My Garcia Media team on this project has included Mario Garcia Jr., working with online edition; Ron Reason, training and coaching; Christian Fortanet, art director.

Here is a video I made to be shown during the gala, capturing the spirit of the project in Lagos:

We promise further updates on TheMarioBlog.
From tabloid to broadsheet
One early year surprise, a newspaper in Maryland, The Gazette, has redesigned itself to become a broadsheet.
Here is how the publisher, James Mannarino, describes the experience:
With the cost of newsprint rising 28 percent in recent months, we have searched for a way to continue to reach the more than 1 million readers who count on us every week. We are unable and unwilling to pass much of these costs to our advertisers, other than the 2 percent to 4 percent rate increase scheduled for February 2009. Instead, we asked our friend, national newspaper designer extraordinaire Neal Pattison, to help create a "new" format for The Gazette as we enter our 50th year. It sounds too good to be true, but the new design, which is a "broadsheet" in newspaper terms, allows us to provide advertisements that are slightly larger, the flexibility to provide more stories and photographs and save on newsprint.
For more information:
http://www.gazette.net/stories/12242008/montnew205756_32471.shtml



To read TheRodrigoFino blog, in Spanish, go:
https://garciamedia.com/latinamerica/blog/
Today, Rodrigo Fino writes about newspaper design

TheMarioBlog posting #162

Sign up and we will keep you updated.